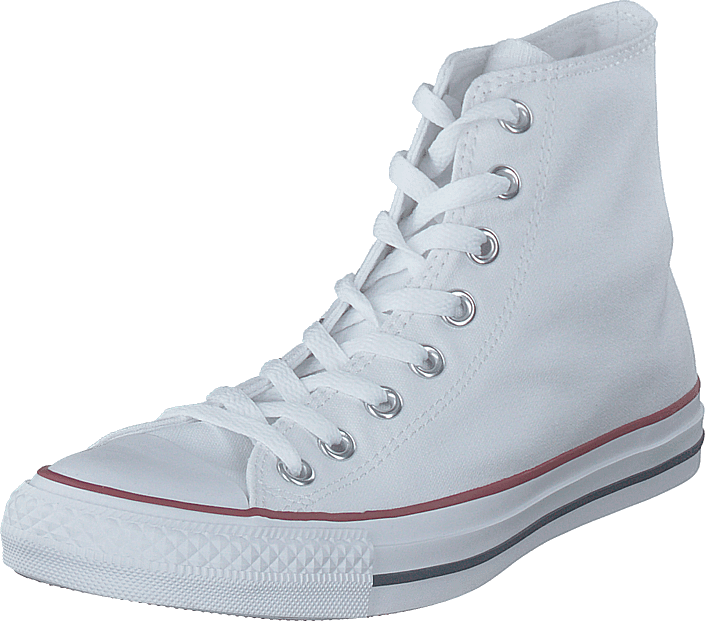 Do you want to inspire others? Tag @footway in your picture on Instagram for a chance to be featured here
3D
Customer data
Converse have normal sizes according to 10803 customers
Product description
White
Textile
Rubber
3 cm
Laces
24596-00
Converse All Star Canvas Hi Optical White


Converse is a popular shoe company that are mostly known for their "Chucks," the white canvas shoe that was very successful as soon as it was released. Converse All Star Canvas Hi Optical White are great shoes for summer and spring and we truly recommend you keep a pair of these at home. They are very useful as you can match them with many outfits and wear them to all occasions. They fit very nicely, are comfortable to walk in and made of high quality materials.


Everyone's favourite canvas shoes


Converse is a brand that provides high quality canvas shoes with great rubber soles. This has been the company's focus from day one and they are doing a very good job so far. Converse shoes were so successful that even the pro basketball player Chuck Taylor began wearing these shoes and the success has just been overwhelming ever since. The rubber sole provides great cushioning and a few stylish holes on the side of the shoe provides a pleasant ventilation for your foot. If you want a tighter fit or want to be able to wear these even when it gets colder outside you can easily add an extra insole.


Nothing can beat a pair of Converse and jeans


Converse shoes and jeans are a natural combination just like coffee and milk or pizza with cheese. These combinations always work no matter what. These shoes have a very simple design but even though they are pretty basic they are perfect as both everyday shoes and for special occasions. Converse All Star Canvas Hi Optical White look better with jeans than any other shoes. They are meant to be worn in the summer and spring when the weather is nice. If it is too hot out to wear jeans you can match them with denim shorts or a summer dress. If you are going for a well-dressed outfit they will also look great with chinos and a nice shirt.


Don't forget to care for your Converse shoes


Converse shoes are meant to be worn in the summer and spring but if you add an extra insole you can wear them throughout the year. As these canvas shoes are white they will easily get dirty but they are very easy to clean. Use soap or detergent with lukewarm water to wash off the dirt or remove stains. The shoes don't have lining which means you can wash the whole shoe under the tap. If the dirt is hard to remove you can take off the laces and throw the shoes in the washer at 30-40 degrees. Once washed you should let them air dry.
Show more
Popular shoes from Converse