26.05.2020: Our home deliveries continue as usual, 1-3 working days ♡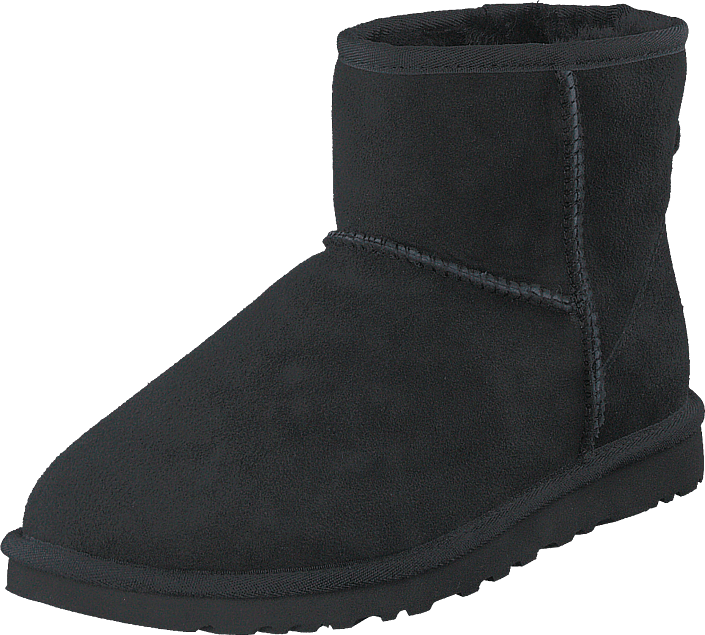 Do you want to inspire others? Tag @footway in your picture on Instagram for a chance to be featured here
3D
UGG
Classic Mini Men Black
Customer data
UGG have normal sizes according to 3059 customers
Product description
Black
Suede
Rubber
53422-01
UGG Australia Classic Mini Men Black


UGG Australia is a popular brand producing high quality shoes with unique designs. The classic UGG boot is known by many and UGG Australia Classic Mini Men Black is the original model but with new modern updates for added comfort. Wear them with your casual outfits and always look trendy while keeping warm. This is the perfect shoe for everyday wear.


Shoes that great for all climates


UGG shoes are originally from Australia but they are made from natural materials so that your feet won't get too hot or too cold no matter what the climate might be. The sole is made of rubber and the outer material consist of suede. This particular suede is made of the modern and unique sheepskin material called Twinface. This material is treated on both sides to provide that soft and comfortable feel. UGG Australia is a brand that only uses the highest grade of sheepskin in its production.


How to wear your UGG boots


UGG boots are perfect for casual wear. They are so comfortable and soft which is why many people around the world have fallen in love with these shoes. In fact, Ben Affleck has been seen strolling around in UGG's and he is only one of many celebrities that have tried out the trend. If you are dressed up in more elegant clothes and want a little more toned down outfit you can throw on a pair of UGG boots and you will be good to go.


UGG's Care Instructions


One thing to remember about the UGG boots is that they are not waterproof. This suede material needs to be well taken care of to avoid getting stained in a more wet climate. This is why it would be good to invest in a few special shoe care products. This will ensure that your shoes last longer and will keep their nice quality. What is worth mentioning is that although these shoes aren't waterproof they will still dissipate heat and moisture from your feet.


Merrell Terran Post Dark Earth


Merrell has come out with a very high-tech and timeless women's sandal. They are made of brown leather which is easy to match with different clothing styles and colours. They also have a very comfortable design and don't have straps or buckles, making them easier to put on or take off.


The new high-tech gladiator sandal


Terran Post Dark Earth is a shoe that is made of leather and has a rubber sole. The reason why these sandals are high-tech is because of how the sole is designed. It's shaped with the unique technique called M- Select Move Footbed, which shapes after your own footbed, preventing the foot from sliding against the shoe. This is a great feature and will make these shoes very comfortable to wear and walk around in.


Dress stylish and relaxed in the summer


These sandals are decorative yet discreet and will go nicely with many clothing styles and different patterns. You can wear them with colourful long summer dresses or maybe a pair of shorts, a cool top and a straw hat for a more bohemian inspired look. The shoe has no buckles, instead it attaches around the big toe which makes it very easy to take on and off. These shoes are perfect for many different occasions such as music festivals, walking to your yoga class or lazy summer days in the sun.


Take care of your sandals


The sandals have very easy care instructions. As they are made of leather it is a good idea to impregnate the shoes to protect against moisture and dirt that can cause discolouration. You should do this before you start wearing them and keep it up on a regular basis. If the shoes happen to get wet you can gently wipe them off with a cloth.


Dr Martens Jadon Black


These boots from Dr Martens are great for someone who wants to stand out and send a message. They have a very cool and bold look and will add something extra to any outfit. The boots are great for both men and women and they are made of leather with a rubber sole. The shoe has a 5 centimeters plateau, distinctive seams and full lacing in the front.


Jadon Black: Practical and bold


These black leather boots truly make a statement and you can be sure that they will add a cool touch to your outfit. They have full lacing in the front and a zipper on the inside to make it as easy as possible to take them on and off. This boot also has a rubber sole and is known to last for a very long time with proper care.


Express your style with this iconic shoe


This is an iconic shoe with roots from the early 1900s with influences from both the military and the rave scene. You can combine the boots with cute summer dresses or black jeans and a vintage t-shirt. You can be a man or a woman, dress cute or go for a more punk-inspired look, it really doesn't matter when it comes to these boots. They will add an edge to your style and they are perfect if you want to express yourself and stand out from the crowd.


Rock your boots year after year!


These Dr Martens boots are made of leather and should be impregnated if you want to add a protective shield that will prevent damage from moisture and dirt. If you have been outside and the ground is wet and muddy you can wipe this off with a wet cloth for extended durability. These boots are both comfortable and durable and won't go out of style. If you care for them right they will stick around for a long time.


Sorel Super Trooper Black Light Grey


Always be prepared for the winter and really cold temperatures with a pair of Sorel Super Trooper Black Light Grey. With a pair like this at home you will never have to worry about your children having cold feet ever again. They are very durable boots that can handle both moisture and cold weather. These boots can handle temperatures all the way down to -40 degrees which is crazy! This particular pair is meant for children or people with smaller feet.


Your children can play outside no matter what


The reason these shoes can withstand temperatures down to -40 degrees is the 9 mm removable thermoplus felt inner lining. You can easily remove it and wipe it off if it happens to get wet. The shoes also have a rubber outsole and the midsole has a 2.5 mm bonded felt frost plug that prevents the cold from getting up through the shoe to your feet. The outer shell is made of rubber and synthetics and this is the perfect boot for very cold winter days outside.


Wear with all kinds of outdoor clothing


Your children can wear these boots with warm winter overalls, ski wear and other winter outdoor garments. They have a waterproof outer shell and perfect to wear if your kids love playing around outside in the slush and snow. The shoes are easily sealed with a pull strap which is a removable knob on a string and this will make it easy and quick for your kids to take them on and off.


How to take care of these Sorel boots


The winter boots won't take long for you to clean or dry off if necessary. You can easily remove the inner sole and dry it separately if it becomes very wet. You can also do the same with the inner lining. Remove and wipe it off separately or even place it in a drying cabinet if you want it to dry faster.


Scholl Moldava WG Ad Oiled


Scholl is a brand that is somewhat of an expert when it comes to footwear that will provide great support for your feet and entire body. Scholl Moldava WG Ad Oiled are sandals that can be worn both inside and outside and you can either bring them to work if you want something comfortable to walk around in or keep them at home. They have a slip on design so they are easy to take on and off and they come in a classic black colour.


Oiled leather and rubber sole


Both the top and bottom of the shoe are made of leather and it also has a good rubber sole. The leather used when producing these shoes is oiled and this is great because it means it is resistant to external shocks. Leather is also a good material because it is very durable and will shape after your foot. The sandals have two buckles so that you can easily adjust the top part of the shoe if necessary.


Ideas on how you can match your Scholl sandals


Scholl Moldava WG Ad Oiled are made of soft black leather and easy to match with your own personal style. You can wear them outdoors with a cute summer dress, a skirt or a pair of shorts. You can also bring them to work and wear them with a pair of trousers and a nice t-shirt. It's a comfortable and casual shoe that will make your feet feel good.


How to keep your Scholl sandlas looking nice and shiny!


Leather is a natural material that requires some effort to keep it looking nice and smooth. These sandals are made of oiled leather and can be washed with a cleansing schampoo. You can also use a soft brush to remove loose dirt and stains. If you want to impregnate the shoes and add a protective shield to the surface that will prevent against unnecessary damage, there are many good sprays and other products on the market.
Show more