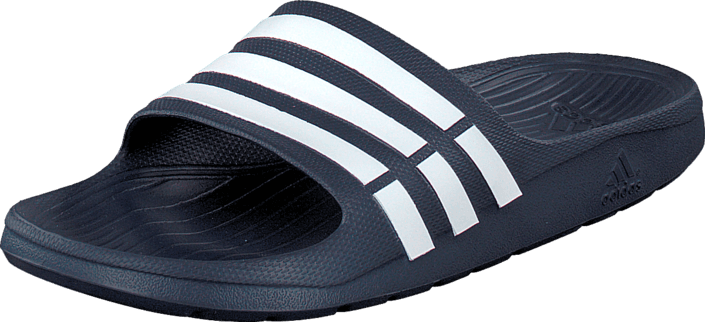 Do you want to inspire others? Tag @footway in your picture on Instagram for a chance to be featured here
3D
adidas Sport Performance
Duramo Slide New Navy/White/New Navy
Customer data
adidas Sport Performance have normal sizes according to 9272 customers
Product description
Blue
Synthetic
Rubber
23705-02
Adidas Sport Performance Duramo Slide New Navy/White/New Navy


These sandals are perfect for a vacation in the sun or strolling around your backyard in the summer. They have a sporty and classic design which is more popular than ever. They come in a nice navy colour with the iconic white stripes.


Rubber – a practical material


Adidas Sport Performance Duramo Slide are made of a strong and durable rubber. This is a good material that provides great cushioning while walking, it's water resistant and a comfortable fit. You can swim with these on, wear them to the beach or at home.


Bring along to the park or the beach


You can wear these sandals most of the year both indoors and outdoors. Bring a pair in your beach bag so you don't have to worry about getting sand in your regular shoes. The sandals will look good combined with all kinds of summer clothing, such as shorts or beach clothes.


Rinse off under the tap


It's very easy for you to wash these Adidas sandals. If they get dirty you can rinse them off in the sink or wipe them off with a damp cloth and they will look as good as new.
Show more
Popular shoes from adidas Sport Performance