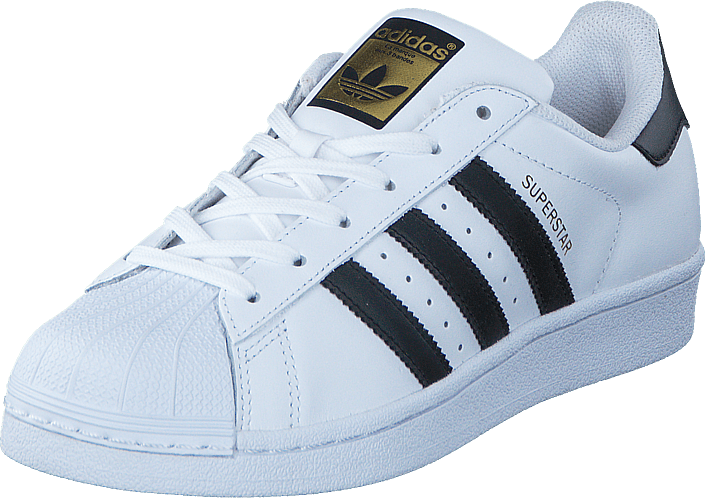 Do you want to inspire others? Tag @footway in your picture on Instagram for a chance to be featured here
3D
adidas Originals
Superstar Ftwr White/Black/White
Customer data
adidas Originals have normal sizes according to 29435 customers
Product description
White
Leather, Synthetic, Textile
Rubber
Laces
49645-00
adidas Originals Superstar Ftwr White/Black/White


adidas Originals Superstar Ftwr White / Black / White is a shoe that has made a very strong impression on the market and it was introduced by adidas as early as 1969. The shoes were meant to be basketball shoes and they did become popular among basketball players in the United States. These shoes have a rubber part surrounding the toes and the three characteristic adidas stripes the brand is so well-known for. These shoes soon became very popular among ordinary people as well and today they are one of the company's best-selling shoes.


Many great materials


adidas Originals Superstar Ftwr White / Black / White are made of a few different materials. The part surrounding the toes that is also called the shell-toe is made of rubber and this gives the shoe a very special design whilst at the same time protecting your feet from rain. The rest of this classic shoe is made of leather, synthetic and fabric, which will make sure it keeps its shape for a long time. These shoes are very comfortable to wear and also have an amazing fit.


A shoe suitable for many clothing styles


adidas Originals Superstar Ftwr White / Black / White are the perfect shoes if you want a cool streetwear style. They have a sleek and stylish design suitable for both more elegant occasions as well as casual looks. You can wear them with a pair of jeans, a nice t-shirt and a sweater or dress up in a suit or chinos. These shoes are one of adidas' most popular models for a reason. They look great with many clothing styles and can be matched with a variety of different colours.


Take care of your adidas Superstars


These shoes are made of both leather and synthetic which is why you need to be a bit careful with how you care for them. Remember not to use any leather cleaner because this can damage the synthetic material. Instead, use a damp cloth or a brush to remove dirt or dust. As these shoes are made to be worn as basketball shoes they have the build and padding to be able to withstand plenty of wear.
Show more
Popular shoes from adidas Originals